To play this stroke, stand close to the table and
* for the backhand loop - face the line of play, and
* for the forehand loop - take a sideways stance facing the line of play
Using a medium stroke, your racket arm should move forward and upwards in the direction that the ball is going to travel, whilst your free arm should point towards the ball to assist with your body turn and balance.
During your stroke, you should use all three joints of your playing arm to produce maximum spin and you should push strongly with your legs to accentuate your body movement.
The racket angle should be slightly closed to impart topspin.
Hit the ball at the top of the bounce (i.e. when the ball it at its highest point) using 50% of your stroke action before hitting the ball and 50% after hitting the ball.
Backhand Loop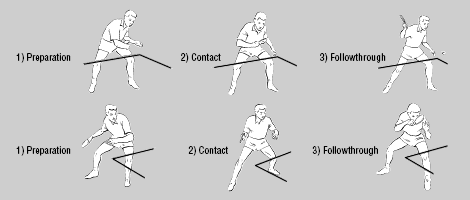 Forehand Loop
My top table tennis techniques:
This shot would normally be used when your opponent plays his shot in such a way that the ball approaches you with height and/or depth.
The purpose of this stroke is to play aggressively and stop your opponent from playing an attacking stroke, so you should try to make sure that your shot lands close to your opponent's baseline or sideline.
To vary the amount of spin on your shot, hit the ball either before or after the top of the bounce and also ensure that you use a loose wrist action to help you generate racket speed and spin.
As you perfect your basic loop technique, you'll be able to play even more aggressive loop shots, from positions further away from the table.
Standing further away from the table enables you to have more time to react to your opponent's attacking shots.
elektronine parduotuve
sexy halloween costumes